[av_heading heading='Dr. Kristy Fincher, Primary Care Physician at Blue Ridge Health – Highlands Cashiers' tag='h1′ link=" link_target=" style='blockquote classic-quote' size=" subheading_active=" subheading_size=" margin=" padding='10' color='custom-color-heading' custom_font='#18475f' custom_class=" id=" admin_preview_bg=" av-desktop-hide=" av-medium-hide=" av-small-hide=" av-mini-hide=" av-medium-font-size-title=" av-small-font-size-title=" av-mini-font-size-title=" av-medium-font-size=" av-small-font-size=" av-mini-font-size="][/av_heading]
[av_image src='http://highlandscashiershealthfoundation.org/wp-content/uploads/2021/04/Multigenerational-family-II.png' attachment='3599′ attachment_size='full' copyright=" caption=" styling=" align='center' font_size=" overlay_opacity='0.4′ overlay_color='#000000′ overlay_text_color='#ffffff' animation='no-animation' hover=" appearance=" link=" target=" id=" custom_class=" av_element_hidden_in_editor='0′ av_uid='av-knakkvql' admin_preview_bg="][/av_image]
[av_textblock size=" av-medium-font-size=" av-small-font-size=" av-mini-font-size=" font_color=" color=" id=" custom_class=" av_uid='av-kn7od9vn' admin_preview_bg="]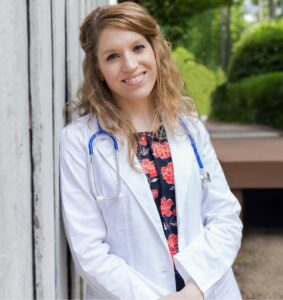 Dr. Fincher is a graduate of Erskine College, and the Edward Via College of Osteopathic Medicine in Spartanburg, SC. She completed her residency at AnMed Health Family Medicine Residency Program in Anderson, SC. Dr. Fincher comes to us with extensive experience in Family Medicine with proficiencies in women's health, lifestyle and nutritional medicine, sports medicine and osteopathic manipulative treatments.
Dr. Fincher's passion for treating "everyone in the family at one location" set her apart during the search for a physician for Blue Ridge Health – Highlands Cashiers. She said, "I am excited to join this tight knit community and use my skills to treat everything from a sprained ankle to a mother-to-be."
Dr. Fincher describes being a primary care physician in terminology she is very familiar with. As a Doctor of Osteopathic Medicine (DO) and former collegiate athlete with a special interest in sports medicine, "I like to think of myself and other primary care physicians as a coach of healthcare. It is our desire to provide you with the tools, training, and knowledge to speed up your recovery to help you maintain an active lifestyle. When managing your health concerns, I take into consideration all the different players that you will interact with on your healthcare journey. My goal is to assist with and help coordinate your care."
[/av_textblock]
[av_textblock size=" av-medium-font-size=" av-small-font-size=" av-mini-font-size=" font_color=" color=" id=" custom_class=" av_uid='av-21j3yb' admin_preview_bg="]
About Blue Ridge Health – Highlands Cashiers
Highlands Cashiers Health Foundation, together with generous donors, will provide initial funding and subsidies to establish Blue Ridge Health – Highlands Cashiers which will be operated by Blue Ridge Health, a 501 (c) 3 non-profit patient centered medical home delivering quality healthcare that is accessible and affordable for all.
Located in the Jane Woodruff Clinic at Highlands-Cashiers Hospital, primary care physicians and support staff will offer a comprehensive continuum of health care services for all ages from infants to seniors, including healthy lifestyles and nutrition programs, screenings, treatments for acute illnesses and minor injuries, physical exams, women's services, minor office procedures and chronic disease management …all under one roof. Insurance, Medicare, and Medicaid will be accepted, and a sliding-fee scale will be available for eligible patients ensuring that all people are served regardless of ability to pay.
[/av_textblock]